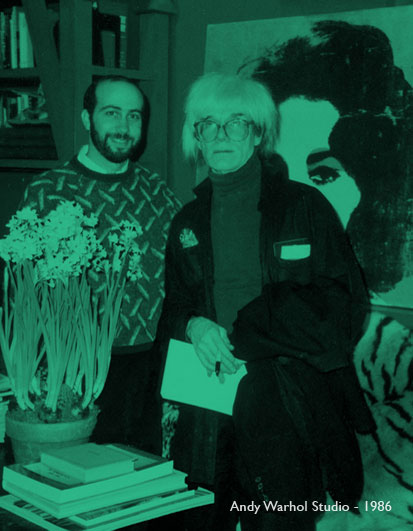 Welcome to Richard Polsky Art Authentication. We are experts in authenticating the work of five legendary painters: Andy Warhol, Jean-Michel Basquiat, Keith Haring, Roy Lichtenstein, and Jackson Pollock. Our authentication service is designed to assist collectors and dealers who are considering acquiring or selling work by these artists. Richard Polsky Art Authentication also collaborates with auction houses seeking expertise in vetting works for consignment.
Richard Polsky is a veteran of over forty years in the art world. He's worked extensively in the secondary market, specializing in exhibiting, buying, and selling paintings by the leading Pop artists. Much of his experience involved working with Sotheby's and Christie's to facilitate the sale of paintings on behalf of collectors. Richard Polsky continues to work with clients to assist them in navigating auction house contracts, while developing strategies for receiving the most favorable terms for consigning their works to the Post-War & Contemporary Art Evening and Day sales
The Value of Authentication
We believe that authentication is the bedrock of any art market transaction. Our approach to evaluating works of art is based on transparency, expertise, and fairness. Whether your property is found to be genuine or not, the written report you receive will clearly explain how we came to our decision, providing you with a substantive document.
Andy Warhol
Richard Polsky Art Authentication validates Warhol paintings, drawings, prints, and sculpture. We specialize in authenticating Warhol paintings which are genuine, but for various reasons never made it into the Andy Warhol Catalogue Raisonné. Ditto for works that were examined and rejected by the Andy Warhol Art Authentication Board. Silkscreens from Warhol's mythic Marilyn print series, paintings from his extensive series of Self-Portraits, and plywood Box sculptures (Brillo, Kelloggs Corn Flakes, etc.) are among our specialties.
Jean-Michel Basquiat
Richard Polsky Art Authentication possesses expertise in authenticating the substantial number of Basquiat paintings and drawings that were never shown to the Authentication Committee of the Estate of Jean-Michel Basquiat — which may be genuine. We also have considerable experience working with Basquiat paintings and drawings with hard to trace provenances.
Keith Haring
Richard Polsky Art Authentication is an expert in authenticating Haring's paintings, wide variety of drawings, graphic works, and sculpture. We also validate Haring's Subway Drawings — a seminal body of work which the Keith Haring Foundation's Authentication Committee would not consider.
Roy Lichtenstein
Richard Polsky Art Authentication is experienced in authenticating Lichtenstein's paintings, prints, enamel jewelry, and sculpture. We also work with the large number of preliminary sketches, finished drawings, and collages produced by Lichtenstein — many of which were never documented and do not appear in the online Roy Lichtenstein Catalogue Raisonné.
Jackson Pollock
Richard Polsky Art Authentication is highly experienced in authenticating Pollock's classic Drip paintings and works on paper. We also have the capacity to authenticate Pollock's Black Enamel canvases and pre-Drip paintings. In addition, we can authenticate Pollock's Psychoanalytic drawings.