RPAA
ANDY WARHOL
CATALOGUE RAISONNÉ ADDENDUM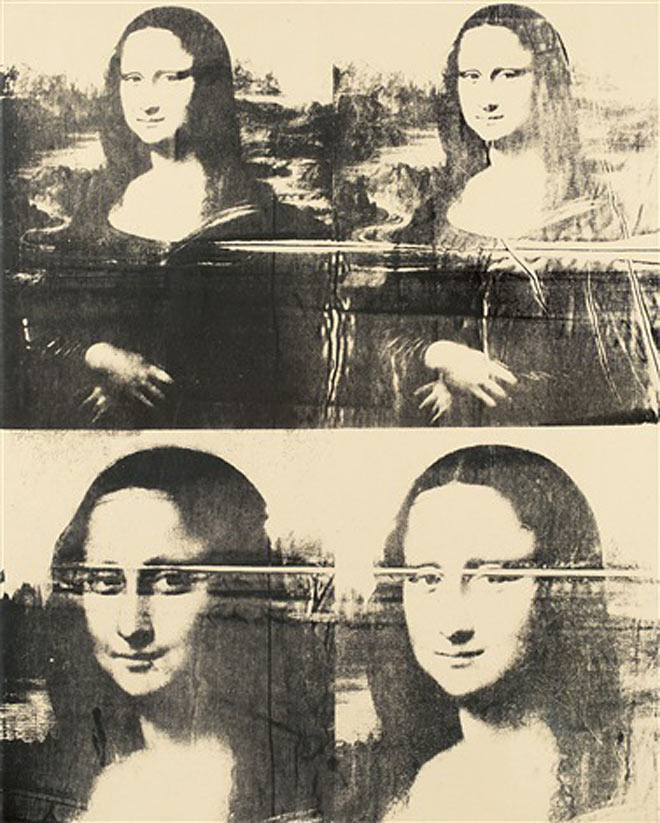 Andy Warhol
Mona Lisa Four Times, circa 1978-79
Silkscreen ink on unprimed canvas
50.5″ x 39.75″
Unsigned
Provenance:
Acquired directly from Andy Warhol studio, New York
Private Collection, New York
Grisebach, Berlin
Private Collection, Stockholm
Comments:
Mona Lisa Four Times is part of a sub-series of late "Mona Lisa" paintings. It owes its origin to the earlier Warhol painting Four Mona Lisas. In 1963, not long after Leonardo da Vinci's Mona Lisa toured the United States, Warhol began a small series of paintings
based on this international icon — arguably the most famous painting in the world. Warhol created a total of seven Mona Lisas, all of which were black and white, with the exception of the large canvas Colored Mona Lisas. One of the earliest buyers from the series was Dennis Hopper, who acquired Double Mona Lisa. The canvas Four Mona Lisas was a gift from Warhol to one of his biggest advocates, the curator Henry Geldzahler. He, in turn, donated the painting to the Metropolitan Museum of Art, where it currently resides.
Mona Lisa Four Times is part of Andy Warhol's first body of work which can be considered "art about art." In future years, Warhol would go on to create the series "After de Chirico," (1982), painted in homage to the Italian surrealist Giorgio de Chirico. This was followed by a series of images titled, "Details of Renaissance Paintings," (1984), including a close-up section of Sandro Botticelli's Birth of Venus. That same year, Warhol also completed a large group of works titled, "The Scream (after Munch)," which was a colorful interpretation of the famous painting The Scream, by the Norwegian artist Edvard Munch.