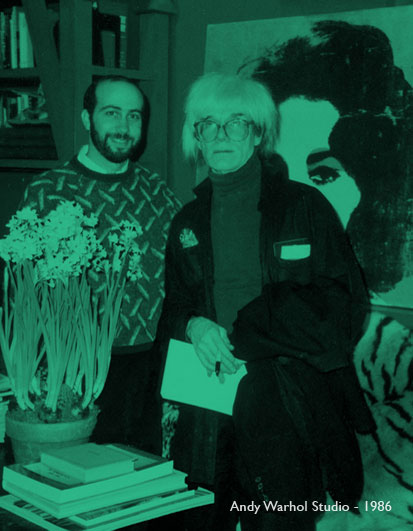 Welcome to Richard Polsky Art Authentication. We are experts in authenticating the work of six legendary painters: Andy Warhol, Jean-Michel Basquiat, Keith Haring, Roy Lichtenstein, Jackson Pollock, Georgia O'Keeffe and the self-taught artist Bill Traylor. Our authentication and art fraud prevention services are designed to assist collectors and dealers who are considering acquiring or selling work by these artists. Richard Polsky Art Authentication also collaborates with auction houses seeking expertise in vetting works for consignment.
Richard Polsky Art Fraud Prevention is our complimentary service that's available to collectors, museums, auction houses, artist estates, attorneys, and insurance companies who have encountered possible art fraud. Art fraud can take on a variety of guises: painting forgeries, unauthorized print editions (a common Andy Warhol issue), misleading investment claims by "fractional painting shares" companies, falsified insurance claims, forged authentication committee letters, and money laundering. Richard Polsky Art Fraud Prevention is the first service of its kind to focus exclusively on Post-War and Contemporary Art from the 1940s-1980s, with an emphasis on: Abstract Expressionism, Pop art, Minimalism, and Street art.
Richard Polsky is a veteran of over forty years in the art world. He's worked extensively in the secondary market, specializing in exhibiting, buying, and selling paintings by the leading Pop artists. Much of his experience involved working with Sotheby's and Christie's to facilitate the sale of paintings on behalf of collectors. Richard Polsky continues to work with clients to assist them in navigating auction house contracts, while developing strategies for receiving the most favorable terms for consigning their works to the Post-War & Contemporary Art Evening and Day sales.
The Value of Authentication
We believe that authentication is the bedrock of any art market transaction. Our approach to evaluating works of art is based on transparency, expertise, and fairness. Whether your property is found to be genuine or not, the written report you receive will clearly explain how we came to our decision, providing you with a substantive document.
Andy Warhol
Richard Polsky Art Authentication validates Warhol paintings, drawings, prints, and sculpture. We specialize in authenticating Warhol paintings which are genuine, but for various reasons never made it into the Andy Warhol Catalogue Raisonné. The same can be said for works that were examined and rejected by the Andy Warhol Art Authentication Board. Silkscreens from Warhol's Marilyn print series, paintings from his extensive series of Self-Portraits, and plywood Box sculptures (Brillo, Kelloggs Corn Flakes, etc.) are among our specialties.
Three Significant Authentication Issues:
Subject Matter: The most commonly forged series are the "Little Electric Chair" paintings, "Flowers" paintings, and "Marilyn" prints

Signature: During the Factory days, Warhol sometimes had others sign his work for him, leading to confusion over what constitutes a genuine signature (and whether the signature helps determine authenticity)

Screening: The quality of the screened image is an underrated factor in evaluating authenticity, largely because forgers have trouble creating screens which are accurate
Jean-Michel Basquiat
Richard Polsky Art Authentication possesses expertise in authenticating the substantial number of Basquiat paintings and drawings that were never shown to the Authentication Committee of the Estate of Jean-Michel Basquiat — which may be genuine. We also have considerable experience working with Basquiat paintings and drawings with hard to trace provenances.
Three Significant Authentication Issues:
Subject Matter: Forgers of Basquiat's work tend to fixate on the icons and symbols associated with his work, such as crowns — hoping the painting will scream Basquiat across the room

Signature: Basquiat utilized a wide variety of signatures — both printed and script — which are hard to duplicate (though many genuine works are unsigned)

Materials: The diversity of materials and surfaces employed by Basquiat is often exploited by forgers; three-dimensional works are a particularly acute problem
Keith Haring
Richard Polsky Art Authentication is an expert in authenticating Haring's paintings, wide variety of drawings, graphic works, and sculpture. We also validate Haring's Subway Drawings — a seminal body of work which the Keith Haring Foundation's Authentication Committee would not consider.
Three Significant Authentication Issues:
Subject Matter: Crawling radiant babies and barking dogs are the subjects mostly commonly faked in paintings and drawings

Signature: Though Haring's signature is easy to copy, the signature's correct scale is a key factor when it comes to determining authenticity

Line: Haring has a unique line that is the essence of elegance and simplicity but is surprisingly difficult to replicate
Roy Lichtenstein
Richard Polsky Art Authentication is experienced in authenticating Lichtenstein's paintings, prints, enamel jewelry, and sculpture. We also work with the large number of preliminary sketches, finished drawings, and collages produced by Lichtenstein — many of which were never documented and do not appear in the online Roy Lichtenstein Catalogue Raisonné.
Three Significant Authentication Issues:
Subject Matter: The majority of Lichtenstein forgeries relate to his iconic "Comic Strip" paintings; the drawings are more diverse 

Signature: Fake Lichtenstein paintings and drawings often bear signatures that are inconsistent with how his signature evolved over time 

Ben-Day Dots: The size and visual quality of Lichtenstein's Ben-Day dots changed over the years and are hard to faithfully reproduce
Jackson Pollock
Richard Polsky Art Authentication is highly experienced in authenticating Pollock's classic Drip paintings and works on paper. We also have the capacity to authenticate Pollock's Black Enamel canvases and pre-Drip paintings. In addition, we can authenticate Pollock's Psychoanalytic drawings.
Three Significant Authentication Issues:
Imagery: Almost all Pollock fakes resemble his classic "Drip" paintings and are executed on canvases — many of which date from the Abstract Expressionist era

Provenance: Purported Pollock canvases often come with complicated backstories which are difficult to verify

Materials:

 

A fair number of forged Pollocks are created with various paints and other materials that were never used by the artist
Georgia O'Keeffe
Richard Polsky Art Authentication is highly familiar with the wide variety of imagery created by Georgia O'Keeffe during her long career. We are particularly experienced in recognizing her works on paper; specifically her watercolors and pastels. In addition, we are experts in validating O'Keeffe's Southwest landscapes, paintings of animal skulls and bones, and abstractions of flowers.
Three Significant Authentication Issues:
Paint Medium: The most commonly faked body of work by O'Keeffe are her modest but luminous watercolors.

Subject Matter: O'Keeffe's "Flower" paintings are the images most frequently duplicated by forgers.

Provenance: Many fake O'Keeffe paintings come with provenances that originated many years ago in small towns in Texas or New Mexico — that are difficult to trace.
Bill Traylor
Richard Polsky Art Authentication has had a long relationship with the work of Bill Traylor, putting us in a unique position of being able to discern fakes and forgeries from genuine examples. We are particularly adept at evaluating works that don't come from traditional sources associated with the artist.
Three Significant Authentication Issues:
Materials: Fake Traylors are sometimes executed on sheets of old cardboard used for advertising, in an attempt to artificially age the drawing.

Sources: Many Traylor forgeries are direct copies of authentic examples illustrated in books about the artist.

Imagery: Counterfeit Bill Traylors are equally split between drawings of people and drawings of animals.