RPAA
ANDY WARHOL
CATALOGUE RAISONNÉ ADDENDUM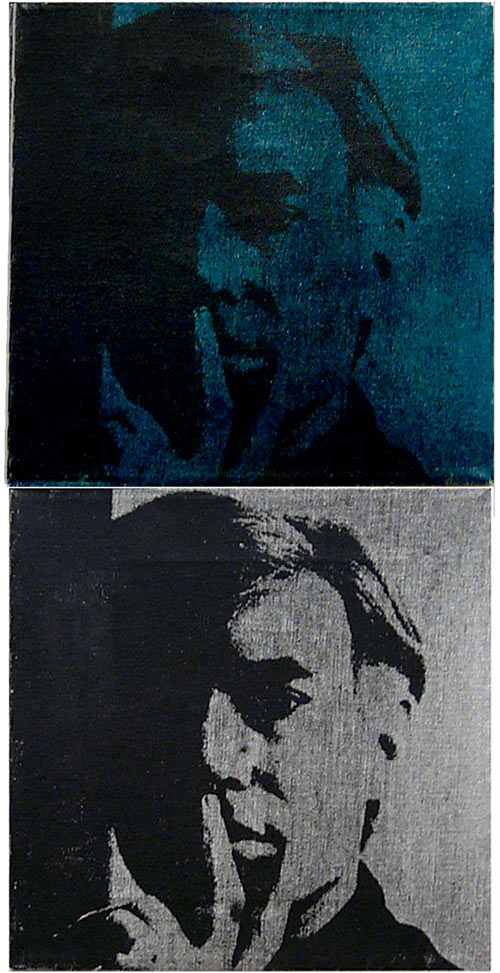 Andy Warhol
Self-Portrait (Mum Voyeur), 1967
Acrylic and silkscreen ink on linen
10″ x 10″ (each panel)
Signed (lower panel)
Note:
We are currently attempting to get a better photo of the painting.
Provenance:
Robert Kidd Gallery, Birmingham, Michigan
Ivan Karp, New York
Private Collection, New York
Comments:
In conversation with Ivan Karp, he explained that Self-Portrait (Mum Voyeur) owes its origin to the following: In 1967, an art professor from a small college in Michigan contacted Andy Warhol and told him that his class wanted to "make a Warhol." Andy responded by sending an acetate and step-by-step details on how to fabricate the painting. The class followed his instructions and completed the two panels. At their invitation, Warhol visited the school, examined the painting, and approved it by signing one of the panels. Or as Ivan Karp put it, "the signature was the confirming act." Karp also explained that the creation of Self-Portrait (Mum Voyeur) was entirely in keeping with the collaborative and experimental nature of Warhol's work. It should be noted that Karp's word carries significant weight, given that he was credited with discovering Warhol in 1962 and bringing his work to the art world's attention. Eventually, his support led to Andy Warhol's representation by the Leo Castelli Gallery in 1964.
Ivan Karp acquired the painting from the Robert Kidd Gallery in Birmingham, Michigan. Years later, Karp showed it to long-time Warhol employee Vincent Fremont. Along with Fred Hughes, he validated Warhol's work before there was an authentication committee. Fremont pronounced the painting genuine. However, not long after, the self-portrait was shown to the newly formed Andy Warhol Art Authentication Board, who turned it down. Karp was under the impression that it was denied because the picture was created off-premises. It is the opinion of Richard Polsky Art Authentication that Self-Portrait (Mum Voyeur) is a genuine Andy Warhol, based on our examination of the work, Karp's credibility, and Warhol's philosophy of painting.