RPAA
ANDY WARHOL
CATALOGUE RAISONNÉ ADDENDUM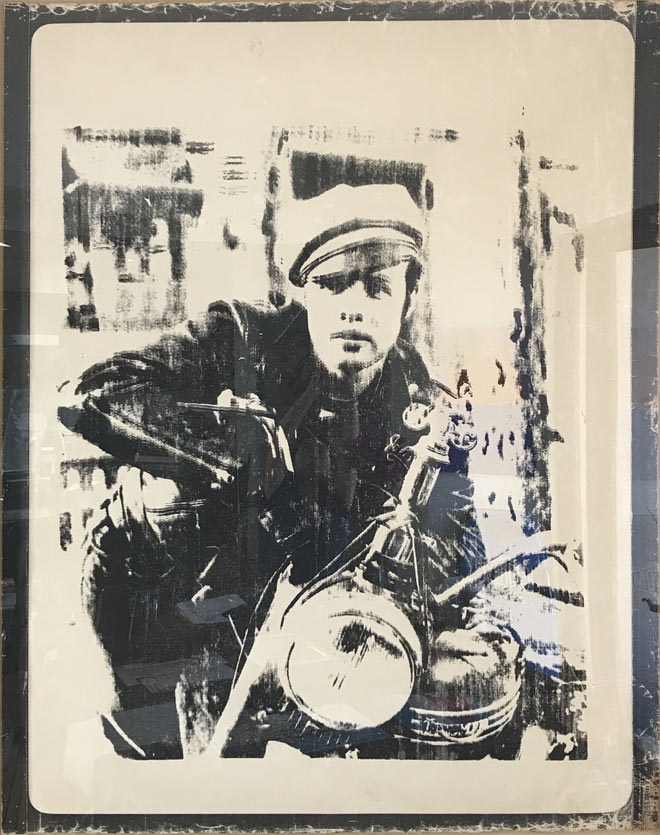 Andy Warhol
Marlon, 1966
Silkscreen ink on movie screen
53″ x 41.5″ (image size: 51″ x 38″)
Unsigned
Provenance:
Si Litvinoff, Watermill, New York (acquired directly from the artist)
Magno Collection, Scottsdale
Comments:
Marlon is an experimental painting — the only one known to have been screened directly onto a movie screen — created by Warhol as part of the small but significant "Marlon" series (including this painting there are nine known examples from 1966). There was also a lone painting, executed in 1963, titled Silver Marlon. The Marlon series is the last group of paintings from Warhol's classic "Celebrity" series.
The image of Marlon Brando is based on a film still from The Wild One. Other Celebrity portraits, and the film stills that they were derived from, include: Marilyn Monroe in Niagara, Elvis Presley in Flaming Star, and Elizabeth Taylor in Butterfly 8.
Marlon owes it history to an exchange made between Andy Warhol and Si Litvinoff, his attorney during the 1960s, for legal services. The deal was facilitated by Paul Morrissey, who collaborated with Warhol on the films that he produced during the Factory years. Less known is that Morrissey also served as Warhol's unofficial business manager from 1966-1973. In 1967, Fred Hughes began working for Warhol, gradually assuming Mr. Morrissey's duties. Ultimately, Hughes became Warhol's full-time business manager.
While this is strictly conjecture on the part of Richard Polsky Art Authentication, since Marlon was reproduced directly onto the surface of an actual beaded movie screen, the painting can be viewed as a possible reflection on Warhol's activities as a film director and producer.